Restaurant Damage Control
Restaurant Damage Control
Your restaurant's search engine results are your online reputation—whether right or wrong, current or outdated, truthful or malicious. Critical Ripoff Reports, articles, blogs, reviews on Yelp, UrbanSpoon, Open Table, outdated news, and malicious and inaccurate reviews can appear instantly and remain in the top search engine ranks for years. You have only a few seconds online for your restaurant to outshine the competition and make a good first impression. Our proven mouse trap will catch the majority of bad reviews before they hit review sites however if one does make it through we have a defense system in place.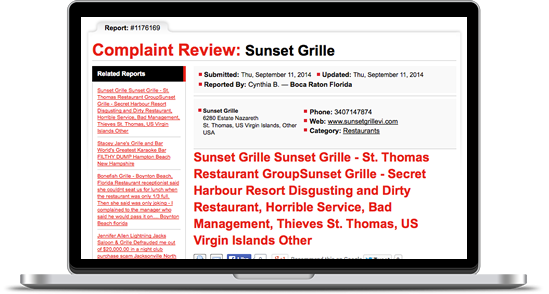 Bad Reviews and Rip Off Reports
RestaurantReputations Damage Control offers proven solutions to suppress the negative search results with accurate positive content that you control. In essence, our solution pushes down the negatives and replaces them with positives. Restaurant owners face two types of negatives: negative reviews on UrbanSpoon.com, Open Table, Yelp, and similar sites as well as attack sites, blogs, and Ripoff Report–style sites (YourRestaurantStinks.com). We have defense solutions for both.
For restaurant owners with no bad reviews, our full-service solution helps mitigate against future attacks, and for restauranteurs who have active Ripoff Reports and the like, we can help defend. Our job is to mitigate, defend, and protect your business. Reputation defense is our forte.
100% Risk Free!

No Contract. No Commitments, Just Results!
Free Trial
Reputation Dashboard
Custom Review site (prevent bad reviews!)
Review Generation collateral
24/7 Review Site Monitoring
Social Media Mention Tracking
Monitor Employee Social Media Accounts
Reputation Indicator alerts
Web & Email Notifications
Weekly & Monthly Trend Cloud Reports
Reputation Scores & Grading
Presence builder listings Platform
Individual Review Management
Competition Compare & Analysis
Post & Share Reviews
24×7 Customer Support
No Commitment, No Contract!
OR
Create your own package>>

Premium
<< Includes all basic features plus:
We respond to your online Review sites*
We post custom content to social media sites*
We respond to Social Media Inquiries*
Solicit Customer Reviews
Custom email review templates
Listing  page Management*
Online Damage control defense
Employee Defamation protection
Flag / Removal of unfair / malicious reviews
Forward Social Leads
Monthly Reputation Audit
Dedicated local Support Rep
*Daily / within 24 hours*
No Commitment, No Contract!
Premium Plus
<< Includes all basic & premium plus:
Mobile Friendly website
Maintenance , hosting, security & updates*
SinglePlatform Menu Sync Package
Zenreach WIFI Marketing Package
Logo / Graphic creation*
Custom video teaser plus 2 social videos*
SEO Friendly blog and article creation*
*Monthly
No Commitment, No Contract!