Trying to buy a review on Yelp, Open Table, or Google? Welcome to owning or managing a restaurant. The posting piranhas nipping at your heels make you want to boost your own ratings, but trying to do that can cost you more customers than a bad review does; and that's saying something.
Negative reviews are always costly and should be prevented and removed whenever possible. Buying a Yelp review can get your account flagged and when accounts are flagged, only the negative reviews retain credibility and the positives become questioned.
A warning pops up and more often than not, the customer looks immediately to another restaurant for their next meal. If they don't, they're only staying to see if there's any bad reviews for their humorous enjoyment.
Buy the Right Kind of Review
Buy a review with Restaurant Reputations by generating more of your own. The tools and techniques we use increase how many positive reviews you're getting while limiting the bad ones.
The top spot on Google is determined by traffic. So if you're getting more people to review your restaurant, you're being rewarded. This is the right way to buy a review on Google.
Setting up a review site dedicated to your restaurant can guide guests to leaving good reviews on social media and divert the less savory away. Generating positive reviews and increasing their volume, at the same time as preventing the bad ones will help your online ratings soar.
Constant contact with your customers also helps to increase volume. Through follow up emails with links promoting review sites for them to leave comments on, you're able to reach them after their visit.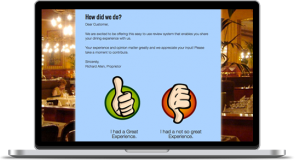 The option to drop a review card encouraging customers to comment online reaches them at the time of their visit. These communications show how much you're committed to showing them a good time.
This is more than a two pronged approach; this is a leaf rake. Get rid of the leaves and let the grass grow greener. Increase your ratings by buying a review with Restaurant Reputations.