Providing original content for your website is an important aspect of driving sales. Keeping customers informed on changes and updates at your bar or restaurant creates continued interest. Whether a blog post, a new video or simply a website update, new content brings new customers.
When your menu changes over and you release new items it's imperative to get that information out to as many people as possible. A new menu, a new chef, or simply some upgrades around the restaurant encourage people to stop in.
The Industry Standard Sets The Bar
Local favorite Jimmy's Famous Seafood recently upgraded their bar and restaurant with new nautical artwork and a contemporary design. The revamp includes a brand new tile bar front and flooring, fresh paint, and rustic wooden table tops for the horseshoe shaped bar and dining room. The immediate action was to film and photograph the beautiful new digs.
In the time since the new work was completed, Jimmy's Owner John Minadakis has seen a huge response from his customer base.
Whether its uploading photos and video, running original contests, or creating original monthly blog posts, posting consistently and incorporating industry specific keywords can help target your specific audience.
When you're out of sight you're out of mind and finding ways to stay in the limelight is important. In the fast-paced environment of restaurants and hospitality you can't allow prospective guests to become bored and complacent.
If you're not changing and improving, your competitors are. They're going to attract more new customers and probably some of your own.
Keyword research and good content writing are important to understanding the inner workings search engines. If you want to be seen, take the time to disseminate fresh, relevant information to the people in your world.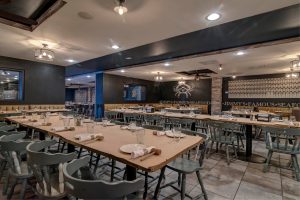 Get your name out to the people you want to see it the most. Provide original content and look for how to rank up on Google, Bing, Yahoo and other major search engines.