Improve your Restaurants Ratings and Reviews online with these free tips and tricks.
Have you ever Googled your restaurant? If not, do it right now. What comes up on the first page of results? You'll likely see a lot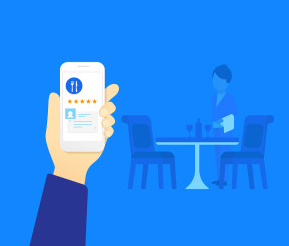 of the top review sites such as Yelp, TripAdvisor, and OpenTable. Pay the most attention to these page one results because this is what potential customers see first. You want to make sure your top results reflect your restaurant positively, and you want to grow these positive reviews.
Google's rank algorithm factors in the number of 4- and 5-star reviews, in addition to businesses that have reviews on multiple review sites. Focus on getting high reviews on more than one major review site, so your restaurant appears on page one of Google, gets more traffic, and sees more customers through the door. Also, online reviews will naturally include keywords that help people find your business such as "outdoor patio," "delivery," and "happy hour."
Post Positive Reviews in Your Restaurant:
Consider posting your reviews where customers can see them—possibly while waiting for a table, a drink, or a to-go order. Recently I ate at a brewery in Guerneville, California that had a chalkboard on the wall of their bar with one positive and one (funny) negative review from Yelp. The chalkboard showcased the positive side of their restaurant, but also made light of how ridiculous some online reviews can be. It showed the restaurant had clout, but also humor, and made me like the place even more.
Create a Signature Dish or Service:
If you want to get featured on Instagram or earn media with a local restaurant review column, create a signature dish or something unique about your restaurant. I'm more apt to bookmark a place if I read that it has something that sets itself out from the pack such as a giant Plinko game, a $1 oyster happy hour, or a drink that comes with a Polaroid picture.
Plus, we all know the popularity of the rainbow bagels, donuts or ramen burgers that everyone wants to eat so that they can post a picture to Instagram. The businesses that concocted those unique items have struck word-of-mouth and online marketing gold. Create something different, and you're more likely to receive these types of positive reviews and promotion for your restaurant.
Market for Positive Reviews:
Don't be afraid to ask your customers blatantly for a review if they enjoyed themselves. Create business cards to hand out at the end of a meal with a check, send an email asking for reviews, and post review site stickers on the windows and doors of your restaurant.
Don't underestimate the value of training your employees to ask your customers for positive reviews. Just don't be overly pushy and do all of these things at once, and remember to focus on getting reviews on more than just Yelp. A good approach would be to spend three months focusing on Yelp, then the next three months focusing on TripAdvisor, and so on.
Utilize Reviews for Content:
Just like using positive reviews on a chalkboard in your restaurant, positive reviews can be leveraged for online marketing. Create a reviews page on your website that features quotes and links out to the major review sites, or interview customers who had a great experience for blog posts. You can also feature positive reviews on social media such as a Customer of the Week on Facebook, or even create videos of your employees or yourself reading reviews like this famous Chef's Feed video blog.
MANAGE YOUR ONLINE REPUTATION
Create a Process to Monitor/Respond to Your Online Reviews:
When you Googled your restaurant, what sites came up? The top review sites for restaurants usually include TripAdvisor, Yelp, OpenTable, Urbanspoon, and Google. Make sure you have a process to check regularly and respond to reviews on all of the major sites, and a process to grow your reviews on each of these sites too.
If monitoring and engaging all of these websites seems overwhelming, you can leverage tools to help manage and ask for reviews such as Grade.us, which helps restaurant owners manage multiple review sites, turn happy customers into reviewers, and turn positive reviews into social media content.
Leverage Social Media to Monitor Reviews:
Although Yelp is a major review site and a top result in Google, don't put all your eggs in the Yelp basket. It's important to take the time to uncover reviews on social media and respond to everything there as well.
Sign-up for Google Alerts, which will send you an email every time your restaurant is mentioned.
Create an automatic Twitter search you can save and check for mentions or reviews people are sharing to Twitter.
Search Instagram using a tool like Worldcam, which allows you to see photos posted at any location around the world. Or use Instagram's search function by selecting Places in the drop-down menu and typing in your restaurant's name. If you have an Instagram account for your restaurant, you can respond with that.
Check Foursquare Tips to see what people are saying when they check in to your business. There might be something you can fix quickly.
Facebook reviews are located to the left of your restaurant's Facebook page—these can be responded directly to, so make sure you're keeping up there too.
Give Just as Much Attention to Negative and Positive:
It's critical you're publicly addressing negative reviews just as much as positive reviews—and do it without being snarky and getting riled up. Acting angry will turn off a lot of potential customers. It's best to respond quickly and calmly, explain the situation and offer to rectify what upset the reviewer. Potential customers will see that you care and genuinely want to improve.
No matter what you do, you'll get unhappy customers and negative reviews. But, if those reviews honestly feel unjust and wrong, protect your business by alerting the review site. You don't want to lose business for an unfounded comment. You can flag reviews that violate Yelp's Terms of Service so a Yelp employee can evaluate the review, and other services work with business owners to address negative reviews this way too.
Want to learn more? Please feel free to contact us directly.