Sometimes what you do in business doesn't make sense to other people. That's OKAY!
At Restaurant Reputations, we offer digital services with NO contracts, for all of our Clients. We offer month-to-month services; no commitment; no contracts with a strong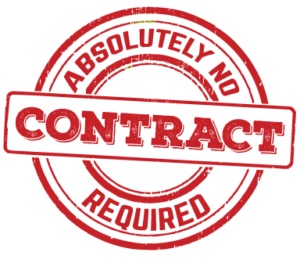 emphasis on "our results will 100% do the talking".   Many of our competitors require a six to twelve month contract for their services.
Why We Offer No Contract Digital Services for Restaurants
RestaurantReputations.com exists to help level the playing field for Restaurants, so that they can stay as competitive as possible. Offering a no contract service, we help restaurant owners maintain flexibility in their marketing budgets and strategies. If we locked our clients in a contract, that would go against everything we believe.
We believe it is the right  thing to do, always!
Sometimes you just know when something feels right. Previously, we did use contracts for set periods of time, and it always felt wrong.  As soon as we made the switch to a no contract plan, it clicked! We have an abundance of happy customers on our no contract plans, so we know we are doing something right.
Easier to do business.
Our Clients experience less clutter and confusion and it enables all of us to get rolling, quickly. Some worry that without a contract, services are not clearly spelled out; that is not the case here! We provide all of our clients a detailed list of our services. We make sure to frame client expectations from the start by providing them with an end of month progress report that details this mission, our vision, and the goals and expectations loud and clear.
We earn your business every month.
If a client is not happy with our services, they can cancel at any time. This requires us to earn your business EVERY month. If we want to stay in business, we must keep our clients happy on a regular basis. Have you seen some of our client testimonials?
We want only happy, satisfied clients.
The only thing worse than an unhappy client is one that is trapped in a contract.  Our clients are always overjoyed with our services and truly appreciate our "no contract" obligation!
Freedom.
At Restaurant Reputations we believe in and appreciate the quote "if you love them, set them free". We do care about our clients, and we want them to have the freedom of choice. Sometimes clients need to spend their budget elsewhere for a few months, and that's Okay. We get it. Often if they leave for another agency, they find the grass isn't always greener. We want you to stay as a client, but we also respect your freedom to choose.
It's what we like, too.  We don't like signing long-term contracts, either. We incorporate our own personal preferences into how we do business with our clients.
Results of Our No Contract Digital Services for Small Businesses
Our clients are extremely happy. They sing our praises, too. They are happy because we get them results. We take care of their online presence, and they're not locked in to a long-term commitment. You know the saying "happy wife, happy life"?  Our clients are happy – we are happy – and we all WIN!
Clients retention!
We have clients who have been on our plan FOR OVER FOUR YEARS! Seriously. These are all local restaurants on one of our no contract digital service plans. If you'd like to speak to them, we can happily give you their names, numbers, and emails for references. Just ask us!
No hard feelings if it doesn't work out.
This may be one of the best benefits! Rarely our services are not a good fit for a client. If it doesn't work out, our client goes their way, and we go ours. If we run into each other at a networking event, there's no hard feelings or avoidance of conversation. In fact, we've received referrals from clients who may have not been a good fit. They recognize while our services weren't a good fit for them, our services are a good fit for someone they know.
It Works For Us
Offering no contract services works for Restaurant Reputations because it fits in with our culture. It's the right decision, for us. In many cases, contracts make sense in business. If you run a business that relies on contracts, and it works for you, AWESOME! In the end, we're all about helping our clients achieve their goals. For us, offering no contract digital services for our clients just felt right. We made the switch, and have not regretted it.
If you would like to learn more about our no contract services, check out our membership page. You can also call us at (888) 568-3301, or fill out our online form.  We look forward to hearing from you!
Nick Collins
President
(888) 568 3301
Want to text? (443) 974 1140