"I love that I get paid to sit on Facebook. I wear yoga pants and I can bring my dog to work."
In the industry for a decade, Hope Seidl worked everything from hostess, to manager, to marketer while working in restaurants. After a life-changing experience in Colorado she came back to Baltimore with a clear mind and a, "fire under [her] butt."
One of the stars at Restaurant Reputations, Hope co-hosts the Tuesday and Thursday 'Hope and Todd Show' on Facebook and Instagram. With the goal of being a sounding board for current and prospective clients alike, it's never a boring conversation.
"If on Saturday you encounter some crazy review, or something you didn't know how to handle, or saw something on the news and you had a question about it, we're going to be there every Tuesday and Thursday." She continued, "We really want to turn it into a 'Q & A' kind of thing."
The show isn't only for questions. Hope and Todd also want to bring poignant current events relating to social media to light.
"Things that are relevant in the news, things that are relevant in social media. We're trying to tie in real life to social media so we can show how important it is in day to day life."
Hope works as a social media specialist in review responses, posting, the new division We Get Social, and more. "I kind of have my hand in all the cookie jars."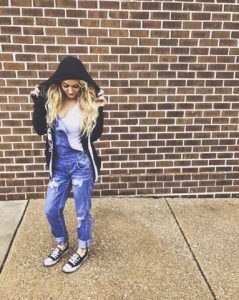 Hope also works as a Barre Instructor where she was a marketing assistant before meeting COO Todd Collins. Undoubtedly, learning to be physically flexible while learning how to be flexible in ways to lure in the attention of online onlookers.
The fit was perfect. Hope's social media and restaurant background attracted her to the idea of a company full of strong women; the inner "Girl Boss" arrived. Clarity went from a hope to a change.
Who is your biggest role model: Sophia Amoruso
Favorite International food: "I know it's such a plain thing, but I love, love, love matzo balls. My favorite was a smoked matzo ball in Philadelphia that will completely change your life."
One person you wish you could see walk to your bar: "Tina Fey. I would love to genuinely "bs" with her. I know that I would have a good laugh because we have a similar sense of humor."